HIGHLANDS RANCH, Colo. — A mystery donor dropped a gold Krugerrand coin into a Salvation Army Red Kettle at a King Soopers store in Highlands Ranch, according to the nonprofit.
The coin and a note expressing appreciation for the organization were found in the red kettle at the store located at 2205 Wildcat Reserve Parkway over the weekend.
Last week, another coin was donated to a Salvation Army Red Kettle in Fort Collins. It's the 21st year that a mystery donor has donated a gold coin to a Red Kettle, and the third year in a row bell ringer Robert Thompson was ringing when the coin was donated, though he doesn't know it when it happens.
The coin was donated to a red kettle at the Hobby Lobby at 4106 South College Ave on Dec. 16.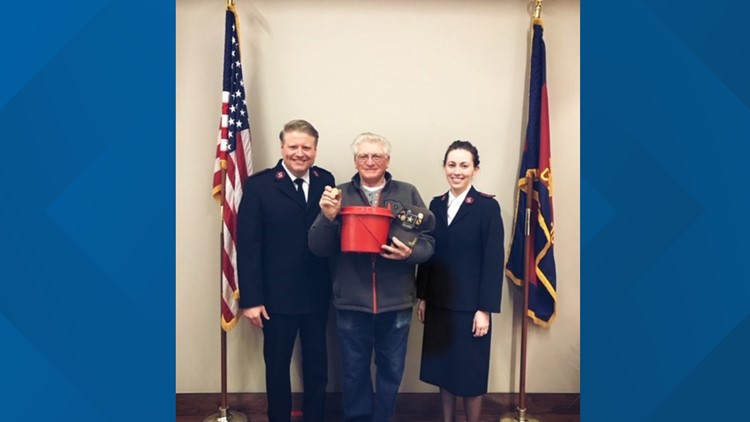 The donations come at a critical time for the agency, according to spokesperson Rachael Fowler. She said donations at red kettles are down nearly $280,000 in the Denver Metro area compared to this time last year.
Red kettles will be out through Christmas Eve, Fowler said.
All donations stay in the Denver Metro, according to Fowler, and help provide meals for families in need, Christmas toys for children and many other services throughout the year.
Their goal is to raise $2.2 million, and if that doesn't happen, Fowler said they could be forced to cut back services.
"We need Red Kettle donations to help people all year long," said Major Mike Dickinson, Divisional Commander of The Salvation Army in Colorado.
"Right now, we need donations to bring the miracle of Christmas to those who are hungry, those who have lost their jobs, those who hope to give their children at least one toy on Christmas morning. But when Christmas is over, those people still face hunger, job loss, discouragement and we desperately want to help them all year long."
Popular Coin News Topics
Today's News
U.S. coin news, world coins and banknotes.
US Mint News
US Mint coins, upcoming releases, designs and announcements.
US Mint Sales
US Mint sales figures for coins, sets and other related coin collecting products.
US Coins
Mintages and coin specifications for modern US coins produced by the United States Mint.
Gold and Silver Prices
Gold, silver, platinum and palladium precious metals.
Currency Converter
International currency converter – Exchange rates for up to 164 currencies and three different precious metals to include gold, silver and platinum.
Coin Shows, Auctions & PR Events
Pretty obvious, it's a link to shows and events around you![corner-ad id="1″]