James Madison Presidential Silver Medal Released
by MIKE UNSER on MAY 6, 2019 ·
The U.S. Mint released today a silver medal honoring James Madison, the fourth President of the United States.
U.S. Mint product images for the James Madison Presidential Silver Medal
Featuring a portrait of Madison, the collectible is composed of 1 troy ounce of 99.9% fine silver and bears a matte finish.
It continues the Presidential Silver Medal series which the U.S. Mint introduced last year with the George Washington and John Adams medals. In January, the Mint released the Thomas Jefferson medal.
A CoinNews photo of last year's issued Presidential Silver Medals depicting George Washington and John Adams
The series itself complements earlier U.S. Mint medals that were presented to American Indian chiefs and other important leaders at events like treaty signings.
Prior-Released Medal Sales, Price and James Madison Medal Designs
Presidential Silver Medals share the same designs as their bronze counterparts and are being issued at a rate of four per year without sales deadlines. The Washington, Adams, and Jefferson silver medals currently have sales of 19,704; 15,405; and 11,256. Like them, this latest piece is priced at $39.95.
A left-facing portrait of Madison appears on the obverse (heads side) of this newest medal. Inscriptions around the effigy read "JAMES MADISON," "PRESIDENT OF THE UNITED STATES," and "A.D. 1809."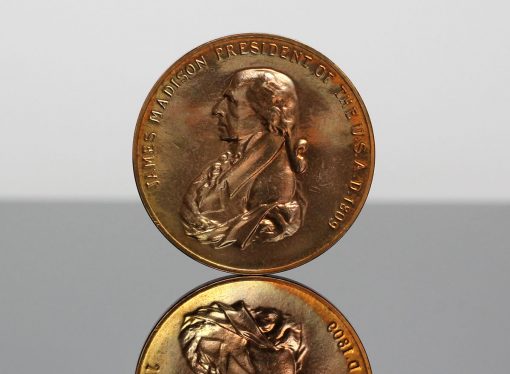 The U.S. Mint also strikes Presidential bronze medals. This CoinNews photo shows the obverse of a James Madison Presidential Bronze Medal.
The medal's reverse (tails) shows the inscription "PEACE AND FRIENDSHIP," symbolized by two hands clasped in token of amity.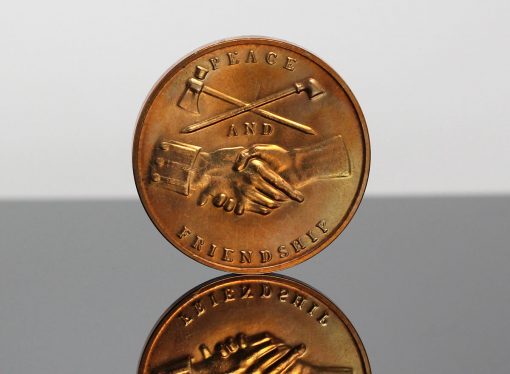 This photo is of the same medal but with its reverse shown
On the cuff of the left wrist are three stripes and buttons, while the other wrist is bare. Above the hands are a pipe of peace and a tomahawk that are crossed over each other.
Presidential Silver Medal Specifications
| | |
| --- | --- |
| Finish: | Matte |
| Composition: | 99.9% Silver |
| Weight: | 1.000 troy oz. (31.103 grams) |
| Diameter: | 1.598 inches (40.60 mm) |
| Edge: | Plain |
| Mint Mark: | None |
These medals are struck on the same planchets that are used for American Silver Eagles. Unlike Silver Eagles which have a reeded edge, medal edges are plain. They may be produced at more than one U.S. Mint production facility but feature no mint marks. Their matte finish is similar in appearance to the finish of an uncirculated coin.
Ordering
Order the James Madison Presidential Silver Medal by calling 1-800-USA-MINT (872-6468) or by visiting the Mint's online catalog for Presidential Medals. No mintage, household or product order limits are in place.
Typical packaging for Presidential Silver Medals
Medals are encapsulated, ship packaged within a green velvet, satin-lined presentation case, and are accompanied by a certificate of authenticity.
Upcoming medals for 2019 include the summer and fall issues featuring James Monroe and John Quincy Adams.